A multifunctional excipient for sophisticated applications
Quality and many years of product use

Albumin is the most abundant protein in human plasma, and is characterized by its multifunctionality, stability and high solubility. Through its
wide range of biological properties, it is suitable for use as a multifunctional excipient for biotechnological and pharmaceutical applications.

​​​​​​​Biotest Human Serum Albumin has a long history of usage in the biotechnology, pharmaceutical and diagnostic areas:
cryopreservation for CAR*-T-cell therapies
cell media for artificial organ and tissue cultures
component in vaccines and radiopharmaceuticals
* chimeric antigen receptor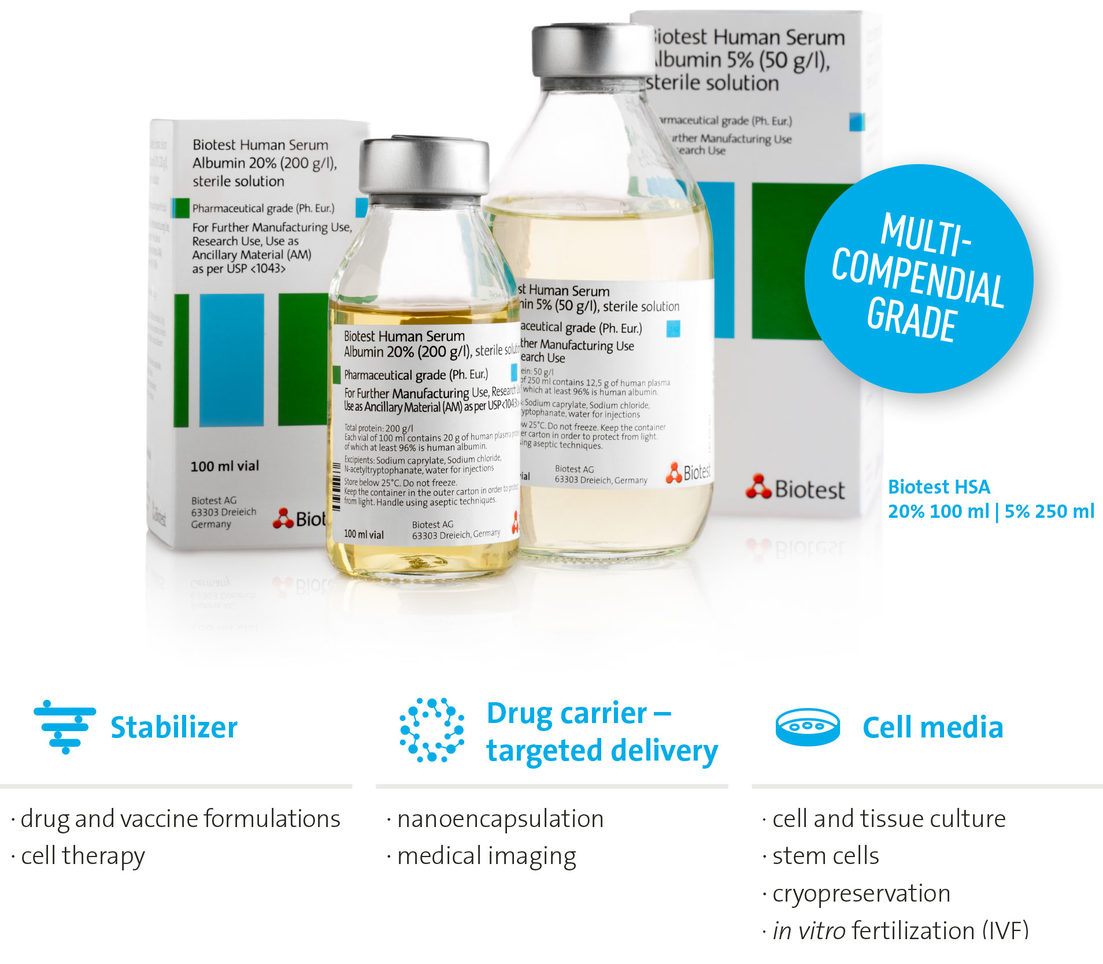 A pharmaceutical and multi-compendial grade human albumin solution
---
We offer a human serum albumin (HSA) product that complies with the regulatory requirements of multiple health authorities.
It is manufactured in a GMP compliant, state-of-the-art manufacturing plant and supplied under GDP (Good Distribution Practice).
Biotest Human Serum Albumin shares its formulation and manufacturing process with Albiomin, a Biotest product that is licensed in more than 50 countries (e.g. Germany, China, Brazil, India) for therapeutic use.*
European Pharmacopoeia (EP) monograph 0255
Biotest HSA is manufactured in compliance with EP requirements for licensed drugs.
United States Pharmacopoeia (USP)-NF (1043) on ancillary materials
Biotest HSA is categorized as tier 1. The AM is a low-risk, highly qualified material that is well-suited for use in manufacturing. Its quality and safety, and any changes to it, are controlled, documented and approved as required to maintain the worldwide (non-US) drug licenses.
USP / 21 CFR 640.80-83 on human albumin (biologics/blood products)
Biotest HSA compliance with USP requirements on human albumin has been thoroughly assessed. If you are interested in more detailed
information on the quality of our HSA, or on product-related methods and parameters, please contact us directly.
* For country-specific information, please contact us: hsa@biotest.com